I love scarves. Love wearing 'em and making 'em. Here are a couple of scarves that I made on a Sunday afternoon. This first one is fabric from Lynne that she scored while she was in Japan. It's from an old kimono that must have been a beautiful kimono in its prime.  Lynne, during her trip to Japan stopped at a place that sells kimono scraps for quilters or whoever would like a beautiful piece of silk, cotton (or rayon too).  The silk is amazing, it's so thin and light it just feels luxurious against the skin.  Because of the rarity of this fabric I decided to keep it simple and just let it be a basic rectangle scarf. I was thinking of putting black fringe on the ends but I thought the fabric might be too delicate? Maybe if I used an interfacing? I used a brand new Microtex needle and even used matching thread (white). The fabric is 13″ wide and about 58″ long. All I did was fold it in half lengthwise and stitched it right sides together, leaving a hole for turning. Turned it right side out and pressed it very carefully and that was that.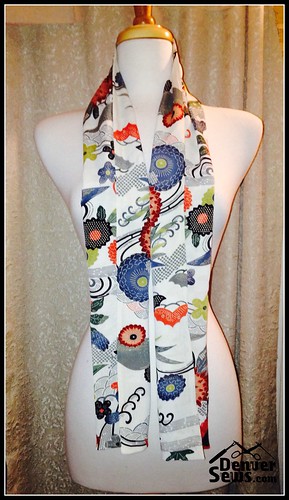 This second one was to be a blouse and then got FUBAR'd and I tried to save it by making it into a camisole, botched that up and, here's all that's left.  So due to ill planning it is now a lovely infinity scarf. I do regret not taking the time and planning for the blouse, but at least I had enough for a scarf. And, it does look kind of delicious. Now that I think about it, I might have some white chiffon in my scrap drawer/cavernous Rubbermaid tub. Hmmm.
Are you a scarf making fanatic? What kinds do you like to do? Here is a great tutorial by Simplicity Patterns for a Infinity Scarf.